Hello stamping friends!!
Today is the last day of school. It's early dismissal. In fact, they only have school for 2 hours today ?!! What?! Why bother with only 2 hours? I guess they "have" to have school today, but it's such a waste of time. 
We have a VERY busy summer scheduled. In fact, I will be out of town again this weekend - this time with the whole family. We are leaving Friday morning to drive to Tennessee for my in-law's 50th Wedding Anniversary party. We will get to spend the weekend with Scott's family (his sister and brother will also be there with all of the cousins). Then we will drive home on Monday. 
Next week I have 2 out of town guests coming for a visit. Needless to say, it will be crazy trying to get orders packaged up, placing restock orders, and keeping up with DT work...all while the kids are home and under-foot (aka fighting with each other and getting in my way)!!
Therefore, don't be surprised if my posts are short and sweet. I have already gotten a little ahead with some of my DT work so at least that's a little bit of a relief for me.
I am hoping to be able to pick the winner of my vacation candy today. As well as catch up with other work and post pictures from my St. Lucia trip.
In the mean time, it's time for a new ABC Christmas Challenge.
We are now on "L" so our challenge is: Love (make a card for someone you love) with an added color challenge...
You MUST use the color challenge to be entered into the sponsor's prize.
Speaking of sponsor, we have two this challenge!! Our sponsors are: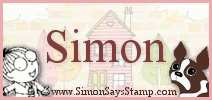 Make sure to check out the Challenge Blog to find out details of the prizes.
Here is my card... 
I used an image from one of our precious sponsors. I thought it was Digital Delights, but I can't find it on the website.
The paper is from my stash. I added a silver corner, some silver elastic string, and some little bells. The sentiment is from Whimsy Stamps. And the sketch is from Sketch Saturday.

Now it's your turn!! Let's see your Christmas cards for someone you LOVE with Red, Green, and Silver.
Thanks for stopping by!! Happy stamping!
~Lacey