Hello stamping friends!!
Edited: This card made the Top 6 at Christmas Stampin' All Year Long!! 
Wow! Where is the time going?! If you haven't noticed, I have not posted for a few days. I missed the Stamp and Create Product Spotlight post on Monday and the High Hopes Challenge post on Tuesday! 
This past weekend was crazy busy and I didn't have any stamping time. I just barely have been able to keep up with orders (good for business, bad for my spare time)! :-)
Before I get to that, I want to quickly mention the Stamp and Create's Product Spotlight Sale this week is: The Bow Easy on sale 25% off
I used the Bow Easy to create the bow on my card today so you can see the awesome bows this tool creates. 
And the High Hopes Challenge this week is: Animals. I have a project I am working on and will post that as soon as I can finish it (sorry).
We have 2 inspiration photos for you. You can choose to find inspiration for your card from either picture...
Fabulous Sponsors this challenge are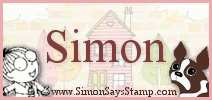 and
Prize
And here is my Icy card...
This is one of the adorable Pickles stamps from Wild Rose Studio. Isn't he adorable? This image is called Pickle with Gift.  The papers are Winter Park from Echo Park along with Red Silk Ribbon, The Bow Easy, Twine, Pearls, and sentiment from WRS Christmas Circle Greetings. 
The sketch is from Try Stamping on Tuesday.
The image was stamped in SU Basic Brown onto watercolor paper and watercolored with Twinkling H2Os...
I stamped on the inside of the card as well... 
Now it's your turn!! The challenge runs through May 15.
This card is also for the following challenges:
Christmas Stamping All Year Long: Anything Christmas Goes
Crafty Hazelnut's: Christmas card with sentiment without using the word "Christmas"
Papertake Weekly: Anything Goes
Lollipop Crafts: Anything Goes
Thanks for stopping by! Happy Stamping!!
~Lacey