Hello stamping friends! 
Before we get to my card today, I wanted to quickly mention that there is an AWESOME tutorial over at the High Hopes Blog. Debby is sharing how she creates her wonderful 3-D images that she always uses on her cards. It's so much fun, you have to check it out. 
Speaking of High Hopes...I have used an older High Hopes image on my card today.
And speaking of Tutorials, Dorte has created a fun and clear tutorial on our challenge topic this week...
This week's ABC Christmas challenge is
H is for "Hot Spot"
It really is easy to do and so much fun!
We are sponsored this week by...
Sponsor Simon Says Stamp - $15 shopping Voucher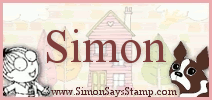 And here's my card...
I used Let us Adore Him by High Hopes. The paper is Kaisercraft and I also used a new Jenni Bowlin Frames.
The sketch is the "simple" sketch from Midnight Madness this week. 
Now it's your turn!! Let's see you version of the Hot Spot technique. Just remember it must be a Christmas image to be entered into the drawing for the prize.