Hello stamping friends!!
I'm back today with the ABC Christmas Challenge. But before I get to it, I have some new digital stamps to show...
The awesome Dustin Pike designed, illustrated, and donated these digital stamps for the Pray for Luke Fundraiser. You can read about Luke's store on his blog here. And see my card drive for Luke here.
These designs are basically "on loan". Dustin Pike still holds the copyright and has donated them to raise money for Luke's family. So I'm not sure how long I will be able to offer these stamps - grab them while you can!!!
I created a scrapbook page using one of the soccer images. Here is a sneak peek...

I'll show the whole layout here later, in the mean time if you would like to see the whole layout, you will have to check out the digital stamps in the store here.
Ok, on to this week's ABC Christmas Challenge...
We have reached "E" so our challenge this week is:
E for "Embossing plus 3 Embellishments".
Just remember, this IS a CHRISTMAS CHALLENGE - therefore, your card must be a Christmas card. 
We are sponsored this week by 2 sponsors... 
Sponsor Simon Says Stamp - $15 shopping Voucher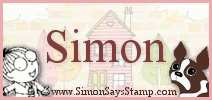 and
Stamp Boutique
1st Prize = 3 digi stamps
2nd Prize = 2 digi stamps
For my card, I used one of the adorable Sarak Kay images...
This is Noel Shepherd. The papers are some old Basic Grey papers. 
For my 3 embellishments, I used: 1. ribbon, 2.charms, 3. pearl brads.
I heat embossed my image (although I didn't do a good job taking a photograph of the heat embossing. Plus I also added some dry embossing in the circle using a cuttlebug embossing folder. 

Come play along!! Also make sure to check out the rest of the awesome DT cards on the challenge blog.  
Thanks for stopping by!! Happy stamping!
~Lacey