How's the weather in your part of the world? It's already VERY hot here in South Florida!! It's going to be a hot summer! Memorial Day in the States marks the begining of "Summer"!! Ryan is already out of school for the summer...next fall he will start Kindergarten :-( My baby is no longer a baby!! Ansley still has another week of school. But the daily "I want to go in the pool" has already started!! Man, I won't get any work done over the summer!!
So, to beat the heat, I am ready to think "Christmas"...the ABC Christmas Challenge that is!!
Our sponsor this week is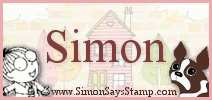 We are now on the letter L so our challenge for the next 2 weeks is:
L is for Lights with extra "Tree"
I will be honest, I struggled with this one. Not one stamp in my personal stash or in the Stamp and Create store has Christmas lights!! So I went with a little different approach to this challenge and went with "Star light"...
This is an old retired Stampin' Up set. It even has palm trees!! I used some 7 Gypsies DP and tag, KaiserCraft pearls, Tim Holtz tag, and Silk Ribbon.
The image was embossed in Gold and watercolored with Twinkling H2Os...
Here's a different angle of the image so you can see the embossing...

  
Why don't you join in the challenges with us?! It's a great way to beat the summer heat and get a head start on your massive Christmas Card List!!
Make sure to check out the ABC Christmas Challenge Blog to see the rest of the awesome DT cards!!
Store update:
~ The Greeting Farm new release now available
~ Whiff of Joy restocks are in including both of the Store Kits.
Thanks for stopping by! Happy Stamping!
~Lacey