Hello stamping friends!! Wow, it's been a busy week so far!! I can't believe it's already Wednesday!
I am so excited that it's time for another ABC Christmas Challenge! I can check 1 more Christmas card off the list!!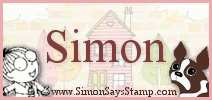 This week Simon Says Stamp is back with an awesome prize! We hope you can play along for a chance to win!
This week's challenge is: F for Frosty with extra - Snow
I new exactly what image I wanted to use!!

This is Zoe and Gemma's Snow Fun by Wags 'n Whiskers Rubber Stamps. I used some MME christmas glitter paper with frosty, some new Lace with Satin Ribbon (on sale this week along with all of the Ribbon at Stamp and Create), a punched snowflake with glitter, and a Large Star Spacer with a Jewel Brad.
The image is actually stamped this time not embossed (shocking, I know)!!

I colored the image with Twinkling H2Os, added some liquid applique on frosty's hat (need to order more of that for the store), and added some Martha Stewart chunky gliter for some added snowfall!
Now it's your turn! We can't wait to see your designs! You have 2 weeks to create a card using a snowman and upload it to Mr. Linky in the Challenge Post to be entered into the drawing for the prize from Simon Says Stamp.
This week's product spotlight at Stamp and Create is Ribbon, Lace, and the Bow Easy on sale for 25% off!
And make sure to check out the Stamp and Create Blog for product updates and a new Weekly Wednesday Candy.
Thanks for stopping by! Happy Stamping!
~Lacey